Great American Authors Read from Their Works: Complete Collection
Unabridged Audiobook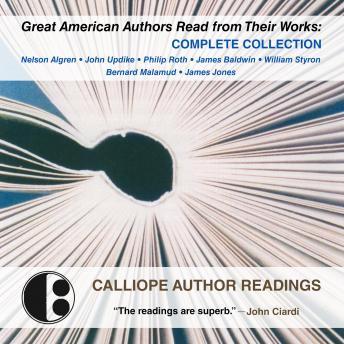 Duration:
2 hours 30 minutes
Summary:
These recordings of twentieth-century American authorsinterpreting their own works were highly praised when first released in the1960s. Today the cultural and historical value of these recordings makes theman essential part of our literary heritage.
In this collection, James Baldwin reads from Giovanni's Room and Another Country, exploring the challenges of being black and gay inmid-twentieth century America. William Styron reads about a disabled childfinding brief moments of joy in Lie Downin Darkness, his novel about a troubled Southern family. James Jones readsthe most famous passage from his celebrated World War II novel, From Here to Eternity. And Philip Rothdoes a hilarious comic turn in a bizarre scene from his early novel, Letting Go.
Additionally, Nelson Algren reads from his most famousnovel, The Man with the Golden Arm,about the decline and fall of a drug dealer and card sharp. Bernard Malamud'sdevastating selection from The MagicBarrel portrays poor, embittered old Jews who achieve a moment of graceafter fierce antagonism. In John Updike's story from Pigeon Feathers and Other Stories, a seminary student working as alifeguard draws a witty and lyrical contrast between saving souls and bodies.And James Jones' account of a World War II battle in Japan in The Thin Red Line shows young soldiersat their most heroic and perilous moments.
Genres: