Grim
Unabridged Audiobook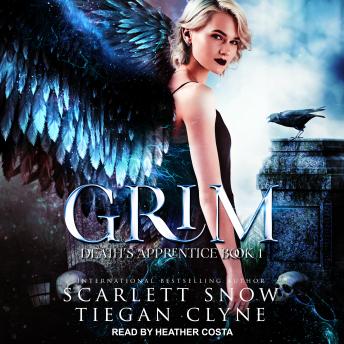 Duration:
4 hours 31 minutes
Summary:
What could be worse than getting hit by a bus? Waking up as Death's new apprentice, that's what.

I already know how crazy that sounds.

For eighteen years, I was able to see the dead, so I pretty much managed to deal with a lot of unusual things in the world. I even learned to accept my strange, if not slightly annoying, 'I see dead people' ability. But the one thing that tipped me over the edge? I can't drink coffee in the afterlife.

Not even a sip.

I know what you're thinking. Surely things can't get any worse than that? Well . . . I also have a rival apprentice who despises me, a quarterback ghost who won't leave me the hell alone, a sexy angel determined to take me out on a date, and a silly little crush on my new boss.

Yeah, you read that last part right. I have an aimless crush on the Grim Reaper, and no, he isn't a hooded skeleton clutching a scythe. He's a gorgeous man in a tailor-made suit and every word he utters fills me with desire . . . just like the others do, despite my best efforts to resist them.

Contains mature themes.
Genres: