Grinnell: America's Environmental Pioneer and His Restless Drive to Save the West
Unabridged Audiobook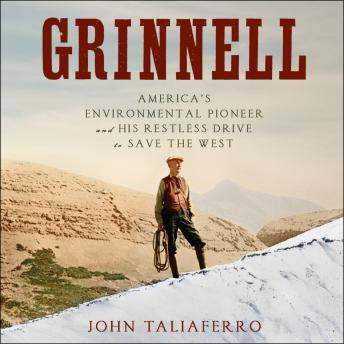 Duration:
18 hours 38 minutes
Summary:
Before Rachel Carson, there was George Bird Grinnell-the man whose prophetic vision did nothing less than launch American conservation.

George Bird Grinnell, the son of a New York merchant, saw a different future for a nation in the thrall of the Industrial Age. With railroads scarring virgin lands and the formerly vast buffalo herds decimated, the country faced a crossroads: Could it pursue Manifest Destiny without destroying its natural bounty and beauty? The alarm that Grinnell sounded would spark America's conservation movement. Yet today his name has been forgotten-an omission that John Taliaferro's commanding biography now sets right with historical care and narrative flair.

Drawing on forty thousand pages of Grinnell's correspondence and dozens of his diaries, Taliaferro reveals a man whose deeds and high-mindedness earned him a lustrous peerage, from presidents to chiefs, Audubon to Aldo Leopold, John Muir to Gifford Pinchot, Edward S. Curtis to Edward H. Harriman. Throughout his long life, Grinnell was bound by family and sustained by intimate friendships, toggling between the East and the West. As Taliaferro's enthralling portrait demonstrates, it was this tension that wound Grinnell's nearly inexhaustible spring and honed his vision-a vision that still guides the imperiled future of our national treasures.
Genres: