Grown-Ups
Unabridged Audiobook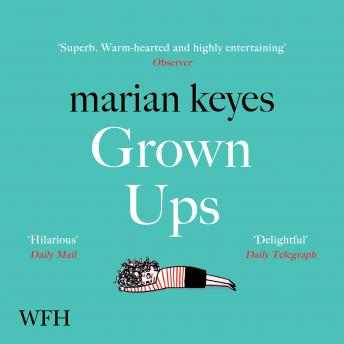 Duration:
17 hours 4 minutes
Summary:
The brand-new book from the bestselling author of The Break and The Woman Who Stole My Life

They're a glamorous family, the Caseys. Johnny Casey, his two brothers Ed and Liam, their beautiful, talented wives and all their kids spend a lot of time together - birthday parties, anniversary celebrations, weekends away. And they're a happy family. Johnny's wife, Jessie - who has the most money - insists on it. Under the surface, though, conditions are murkier. While some people clash, other people like each other far too much...Everything stays under control until Ed's wife Cara, gets concussion and can't keep her thoughts to herself. One careless remark at Johnny's birthday party, with the entire family present, starts Cara spilling out all their secrets. In the subsequent unravelling, every one of the adults finds themselves wondering if it's time - finally - to grow up?

'Marian Keyes is back with a witty and dramatic story about the Caseys, a family who seem perfect on the surface but hold some big secrets between them. When one of them starts to spill the truth after suffering concussion, things start to unravel in hilarious ways.' GOOD HOUSEKEEPING

Praise for Marian Keyes:

"Clever, hilarious, poignant...Gloriously funny." SUNDAY TIMES

'Everything this woman touches turns to comic gold.' COSMOPOLITAN

'Full of brilliantly funny characters, genuine emotion and heaps of charm.' HEAT

'Classic Marian Keyes: a blizzard of wit and wisecracks.' THE TIMES

'Keyes is an international treasure. The ultimate choice for a binge read.' STYLIST

'When it comes to writing page-turners that put a smile on your face and make you think, Keyes is in a class of her own.' DAILY EXPRESS
Genres:
1 of 1 people found this review helpful.