Guided Meditation: 30 Minute Deep Sleep Hypnosis for Sleep, Relaxation, Anxiety Relief, & Stress Relief
A free trial credit cannot be used on this title.
Unabridged Audiobook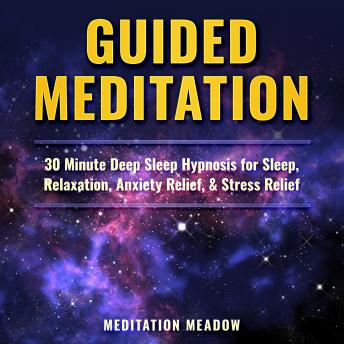 Duration:
0 hours 56 minutes
Summary:
Defeat your anxiety and relieve stress in just 30 minutes.
Created by Meditation Meadow, and enjoyed by over 25,000+ listeners worldwide, this powerful 30 minute Meditation is specially designed to target your anxiety and leave you feeling calm, refreshed, and ready to face whatever life throws at you.
Whether you listen in the morning, before bed, or even on the go, this incredible meditation takes just 30 minutes and will last you the entire day! What would your life be like without all that stress and worry? Wonder no more, because now you can make that a reality with our Guided Meditation.
This 30 Minute Meditation will help you:
Relieve The Symptoms of AnxietyRelease Built-up Stress and TensionStop Panic Attacks in Their TracksCalm Your Mind and Still Your ThoughtsLeave You Relaxed and RefreshedAnd So Much More!After just one session of this, you'll wonder how you ever managed without it. Going deep into your subconscious to root out negative emotions and limiting beliefs, this Guided Meditation is guaranteed to leave a profound and lasting impact on your life!
So what are you waiting for? Overcoming stress and anxiety is just 30 minutes away!
Genres: