Guided Meditation for Chakra Awakening for Beginners: Spiritual Self Healing Meditation to Become More Confident, Overcome Stress, Anxiety, Trauma, Depression, & Chronic Pain
A free trial credit cannot be used on this title.
Unabridged Audiobook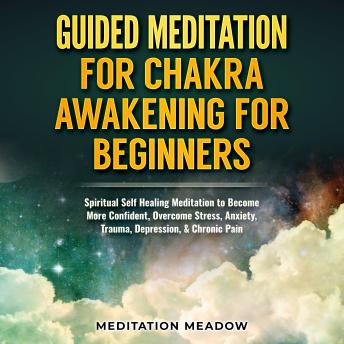 Duration:
1 hours 10 minutes
Summary:
Awaken your Chakras and benefit from the power of spiritual self-healing today.
Become more confident, overcome stress and anxiety, and heal your body & mind with this powerful Guided Meditation. Unlocking and realigning your Chakras is the secret to physical and mental health, practiced by ancient Eastern religions for thousands of years - now, you can unlock this ancient wisdom with Meditation Meadow's incredible Guided Meditation.
Whether you have experience with Chakras or you've never heard of them before, this meditation is perfect for everyone regardless of experience. Our Guided Meditation will help you:
Unlock the Power of Your ChakrasBecome More Confident and AssertiveBoost Your Self-EsteemOvercome Stress and AnxietyReduce the Impact of DepressionRelieve Chronic PainAnd So Much More!Whether you're suffering from anxiety or depression, or you're just looking for more self-confidence, the countless benefits of this ancient spiritual healing are bound to improve your life. Join 25,000+ other listeners who are already benefitting from these amazing powers.
Unlocking your Chakras and benefitting from healing energies is just one Guided Meditation away. Buy now!
Genres: