Guy Not Taken
Unabridged Audiobook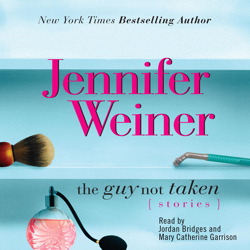 Duration:
8 hours 0 minutes
Summary:
Jennifer Weiner's talent shines like never before in this collection of short stories, following the tender, often hilarious, progress of love and relationships over the course of a lifetime.

We meet Marlie Davidow, home alone with her new baby late one night, when she wanders onto her ex's online wedding registry and wonders what if she had wound up with the guy not taken. We find Jessica Norton listing her beloved river-view apartment in the hope of winning her broker's heart. And we follow an unlikely friendship between two very different new mothers, and the choices that bring them together -- and pull them apart.

The Guy Not Taken demonstrates Weiner's amazing ability to create characters who 'feel like they could be your best friend' (Janet Maslin) and to find hope and humor, longing and love in the hidden corners of our common experiences.
Genres:
1 of 1 people found this review helpful.