The Halls of Midnight: The Books of Conjury Volume Three
Unabridged Audiobook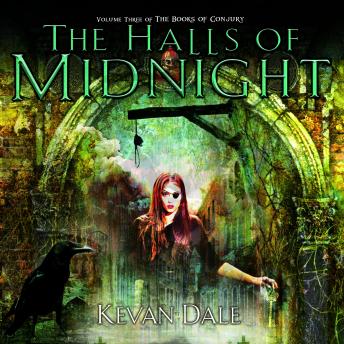 Duration:
8 hours 42 minutes
Summary:
She fears she's apprenticed to a monster. But one way or another, this young witch won't let the world fall into darkness.

18th-Century Boston. It's only a matter of time before Kate Finch's magical secrets are public knowledge. And with the new governor determined to chase her from Salem, she's worried she won't be around to deal with her mentor's increasingly disturbing signs of demonic possession. But the rifts between worlds are shifting so dangerously that unless she takes action, the entire province could be consumed in a fiery catastrophe.

Frantically working behind the scenes to shore up all the failing witches' seals, Kate battles an authority intent on stamping out her kind. And grappling with doubt, the desperate woman faces an impossible choice: Forsake everything she loves, or betray the man who took her in…

Will Kate pay the ultimate price to stop a terrifying evil invasion?

The Halls of Midnight is the thrilling third and concluding volume in The Books of Conjury historical fantasy series. If you like epic showdowns, flawed heroes, and full-tilt action, then you'll love Kevan Dale's spectacular finale.

Buy The Halls of Midnight to end the madness today!
Genres: