Hamlet
Unabridged Audiobook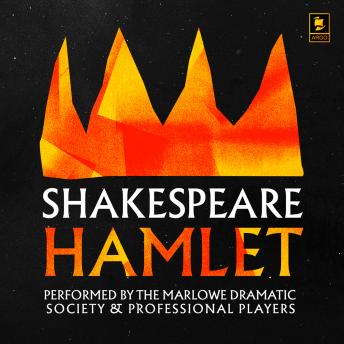 Duration:
4 hours 2 minutes
Summary:
William Collins Books and Decca Records are proud to present ARGO Classics, a historic catalogue of classic prose and verse read by some of the world's most renowned voices. Originally released as vinyl records, these expertly remastered stories are now available to download for the first time.


'This above all: to thine own self be true,
And it must follow, as the night the day,
Thou canst not then be false to any man.'


The searing tragedy of young student Hamlet, tormented by his father's death and confronting each of us with the mirror of our own mortality in an imperfect world.


The ghost of the King of Denmark tells his son Hamlet to avenge his murder by killing the new king, Hamlet's uncle. Hamlet feigns madness, contemplates life and death, and seeks revenge. His uncle, fearing for his life, also devises plots to kill Hamlet. The play ends with a duel, during which the King, Queen, Hamlet's opponent and Hamlet himself are all killed.


All of the Shakespeare plays within the ARGO Classics catalogue are performed by the Marlowe Dramatic Society and Professional Players. The Marlowe was founded in 1907 with a mission to focus on effective delivery of verse, respect the integrity of texts, and rescue neglected plays by Shakespeare's contemporaries and the less performed plays of Shakespeare himself. The Marlowe has performed annually at Cambridge Arts Theatre since its opening in 1936 and continues to produce some of the finest actors of their generations.


Thurston Dart, Professor of Music at London University and a Fellow of Jesus College Cambridge, directed the music for this production.


The full cast includes: Patrick Wymark; Anthony White; Miles Malleson; Ian Lang; Peter Orr; David Rowe-Beddoe; Philip Strick; John Tracy-Phillips; Giles Slaughter; George Rylands; Trevor Nunn; Michael Burrell; Julian Curry; David Coombes; Tom Bussman; Hugh Walters; Gary Watson; Ronald Allen; Roger Hammond; Margaretta Scot; Jeannette Sterke; William Devlin.
Genres: