Hancock's Half Hour Collectibles: Volume 1: Rarities from the BBC radio archive
Unabridged Audiobook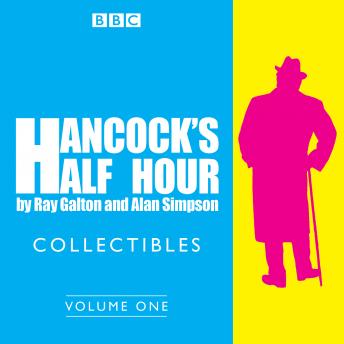 Duration:
5 hours 36 minutes
Summary:
A fascinating collection of rare and remastered radio & TV material starring Tony Hancock

Tony Hancock's broadcasting career began in the early 1950s with appearances in BBC radio programmes such as Variety Bandbox and Calling All Forces. Rare archive extracts of both are presented in this collection, along with an edition of Educating Archie, the radio comedy in which Hancock was a regular guest star.

Soon he had his own radio series, Hancock's Half Hour, which transferred to BBC television in 1956. This volume features four complete episodes: the recently discovered TV soundtrack of 'The Horror Serial', plus remastered and restored versions of 'The Blackboard Jungle', 'The Student Prince' and 'The Test Match' from the radio series.

Also rarely heard since first broadcast are soundtrack interviews with Tony Hancock - including the notorious edition of Face to Face from 1960 - and interviews with writers Ray Galton and Alan Simpson. A bonus PDF booklet looks at each item in the context of Hancock's broadcasting career, with insights into how many of these lost or rare items were discovered.

Marking the legacy of one our greatest comedy entertainers, this collection is a must for fans of Tony Hancock and Hancock's Half Hour.
Genres: