Hannah Duston: A Captivating Guide to the First American Woman to Have a Statue Built in Her Honor
Unabridged Audiobook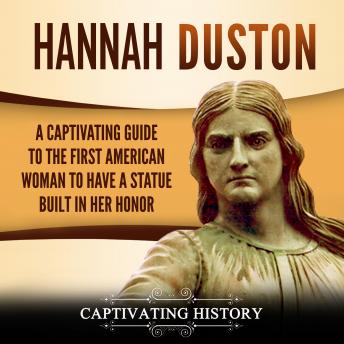 Duration:
1 hours 11 minutes
Summary:
If you want to discover the captivating history of Hannah Duston, then pay attention...
In a time very different from our own, there lived a woman that led an extraordinary life. The single most important event in her existence has stood the test of time. Her character, her actions, and her deepest thoughts and desires are still debated to this day. She has become a symbol of an era that many people today do not understand or comprehend. 
Hannah Duston lived in a period when women were meant to be delicate, feeble, and more compassionate, but she defied this stereotype. She could be thought of as the ultimate mama bear defending her cubs and warding off all who would harm them. Or she could be seen as the wolf among the lambs that waits for the perfect moment to strike. Her accomplishments in life were great, and her courage stronger than most people. Yet her moral outlook on life was questionable. She was more than just a woman; she was a fighter with a keen sense of survival. She killed to avenge who she loved and never apologized for her actions, even if they were wrong. 
In Hannah Duston: A Captivating Guide to the First American Woman to Have a Statue Built in Her Honor, you will discover topics such as
English, French, and Native Americans: Frenemies for DecadesHannah's Early LifeThe Fateful Raid on HaverhillHannah's Zero HourMerrimack River MassacreHannah's Final ReflectionHannah Duston MemorialsThe Ugly Side of HannahControversial CandorAnd much, much more!So if you want to learn more about Hannah Duston, scroll up and click the 'add to cart' button!
Genres: