Harmony: A New Way of Looking at Our World
Unabridged Audiobook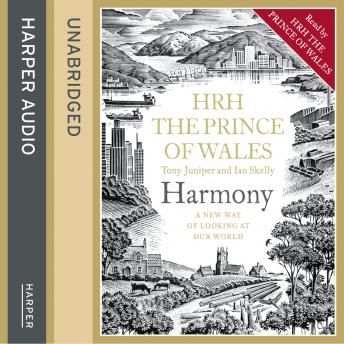 Duration:
11 hours 21 minutes
Summary:
READ BY HRH the Prince of Wales. A practical guide to what we have lost in the modern world, why we have lost it and how easily it is to rediscover. Harmony is a blueprint for a more balanced, sustainable world that the human race must create to survive.


Long before the phrase climate change was a universal catchphrase, His Royal Highness the Prince of Wales was studying the impact of industrialization on the environment. Now in this fascinating cross-discipline work, the Prince of Wales calls upon his years of research and explores the way in which mankind must work to restore the delicate balance with nature that we've lost in the centuries since the industrial revolution began.
In 'Harmony', His Royal Highness the Prince of Wales draws upon a variety of elements from our modern world, and discusses how areas as diverse as architecture, farming, medicine have each abandoned the classical balances with nature that existed in pre-industrial times. From the rice farms of India to America's corn belt, 'Harmony' spans the globe, dissecting the specific practices of modern life that have put us at odds with nature and showing how these trends manifest themselves throughout the world.
Contrasting current styles of architecture with traditional design, modern medicine techniques against those of the past, he paints a clear portrait of what we as a species have lost in the modern age. More than simply another treatise on global warming, 'Harmony' tells a story that presents a clear, thoughtful look at how our disassociation from nature has helped to in the greatest environmental crisis in the history of mankind.
Genres: