Have You Seen My Country Lately?: America's Wake-Up Call
Unabridged Audiobook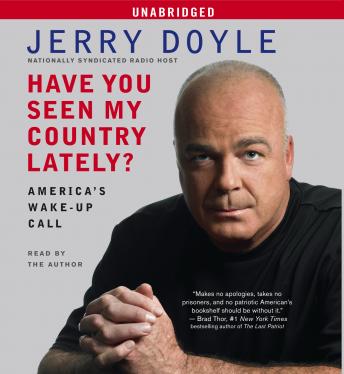 Duration:
8 hours 3 minutes
Summary:
'I've seen my country lately. Frankly, I don't like what I see. Nevertheless, it's not too late to restore the great and unique wonder that is the United States. We are the beacon of hope for the world, and we will remain so as long as we stand up for our principles.'

In keeping with his no-holds-barred on-air style, conservative radio talk show host Jerry Doyle has the guts to ask the tough questions about the state of our nation today. In this informative, entertaining, and challenging narrative, he urges Americans to take back the things that make our country great, and delivers his hard-hitting and oftentimes humorous spin on:

• ECONOMIC FASCISM—the rapid government domination that began with the egregious takedown of GM

• BAILOUTS—the missteps, wrong moves, and rules of salary caps, bank buy-ins, and bonuses that changed from day to day

• EDUCATION—how our 'everybody wins' obsession is destroying teaching and fostering an obnoxious self-entitlement trend

• THE OBAMA PRESIDENCY—will American capitalism survive this administration?

. . . and much more. If you like your politics straight up, with a commonsense chaser and a shot of dry wit, you'll be galvanized and enlightened by Jerry Doyle—the man, his story, and his insights into America today.
Genres: