Having Breathing Space
Unabridged Audiobook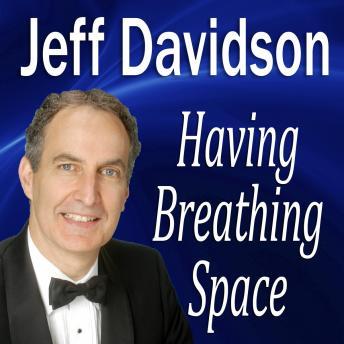 Duration:
0 hours 32 minutes
Summary:
What would your life look like if you had breathing space—the ability to tackle problems and challenges as they arise, the space and freedom to engage in conceptual and innovative thinking, and a sense of control and ease about each day?
In this insightful session, professional speaker and author Jeff Davidson lays out a plan for you to have a greater sense and experience of breathing space in your life. Jeff focuses on such issues as managing your morning routines, maintaining greater focus, keeping accumulations from piling up, enjoying a leisurely lunch, departing from the workplace at a reasonable hour, maintaining sufficient health and life coverage, identifying domestic resources, taking time to be with friends, staying in shape, and dropping back at any time.
As a result of listening to this program, you'll be inspired to take back control of your life, knowing that you are at the helm of your own ship and that you possess all the tools and capabilities necessary to succeed.
Genres: