HBR's 10 Must Reads on Platforms and Ecosystems
Unabridged Audiobook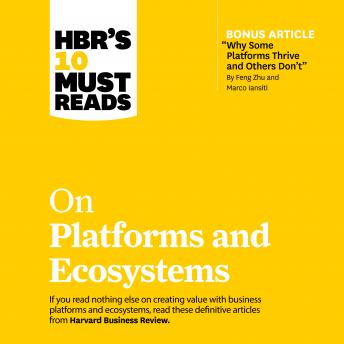 Duration:
5 hours 34 minutes
Summary:
Competition is moving beyond industry to ecosystem. Are you ready?

In the shift from pipeline to platform, value is no longer created by your company's product or process alone-it's created through interactions. And the strategy you used to become an industry leader won't help you compete in an evolving and complex ecosystem.

If you listen to nothing else on platforms and ecosystems, listen to these ten articles by experts in the field. We've combed through hundreds of articles in the Harvard Business Review archive and selected the most important ones to help you address classic challenges such as navigating the shift from controlling resources to orchestrating them, redefining value, thwarting competitive threats, and adapting your strategy.

This book will inspire you to: manage network effects and inspire users to attract more users; understand the myriad dynamics at play in a platform business; decide whether to be a chief architect or a complementor in your ecosystem; consider which of your company's existing products and services can be turned into platforms; shift from managing products to managing interactions; collaborate with other firms in an ecosystem that spans sectors; and learn to allocate-and reallocate-resources as conditions change.
Genres: