Head On - Ian Botham: The Autobiography
Unabridged Audiobook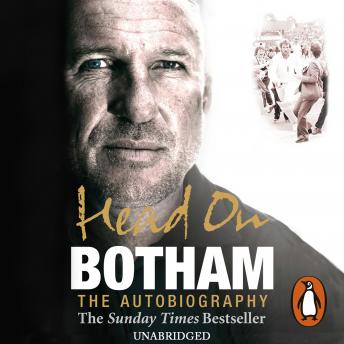 Duration:
12 hours 50 minutes
Summary:
Ian Botham, voted the cricketer of the 20th century by the fans, was a genuine all-rounder who, when on form, was simply unstoppable. In his miraculous early career, he broke all the records: the fastest ever all-rounder to achieve the magical test doubles of 1,000 runs and 100 wickets, 2,000 runs and 200 wickets, and 3,000 runs and 300 wickets. He scored a century and took five wickets in an innings in the same test match on five different occasions - a feat nobody else has managed more than twice. He even briefly held the world record for the greatest number of test wickets.

For his part in the '81 Ashes alone he has achieved immortality. On the 4th day of the Headingly test, with England in deep trouble and 500-1 against with the bookies, Botham single-handedly brought them back from the dead with his 149 not-out. An innings which Wisden rate as the 4th finest of all time.

He is cricket's only equivalent of George Best: a headstrong genius with a wild streak who always stole the headlines both on and off the pitch. Always controversial and confrontational, his life has been a sensational rollercoaster ride. From cannabis smoking to accusations of affairs, ball-tampering and air-rage, he became a figure of obsession for the tabloids, making his story unmissable.
Genres: