Healing Well and Living Free from an Abusive Relationship: from Victim to Survivor to Overcomer
Unabridged Audiobook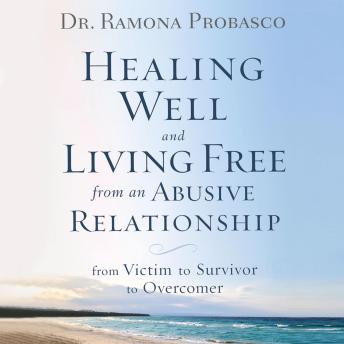 Duration:
9 hours 15 minutes
Summary:
Abusive Relationships Change Us, but They Don't Have to Destroy Us

In this breakthrough guide, Dr. Ramona interweaves her personal story with a proven, step-by-step process to healing from the trauma of domestic abuse.



It is hard to imagine someone with a Doctorate in Psychology, a flourishing counseling practice, experience in both TV and radio, to have hidden in a different state with her children, worn sunglasses on a rainy day to hide her blackeye, and often used turtlenecks to cover choke marks. Most people would not believe this could be the same person. Dr. Ramona is that person.

The shocking reality is 1 in 3 women globally, along with 1 in 4 women and 1 in 7 men in the United States, will experience domestic violence in their lifetime. Abuse of this nature can happen to anyone.

While there are no prototypes for someone who gets into a relationship with an abuser, there are traits that can place a person at risk of staying in an abusive relationship. Knowing what the red flags are, and believing them when you see or sense them, is crucial.

With understanding and empathy, Dr. Ramona encourages listeners to:

· Break the silence

· Call it what it is

· Understand the mindset of an abuser

· Recognize the cyclical pattern of abuse

· Work through the tough questions

· Understand what forgiveness is and is not

· Learn to trust your gut again

· Identify safe and healthy love

· Find a healthy support system, and much more…

Abuse breaks the spirit and always leaves wreckage in its wake. But this does not have to be the end of your story. Dr. Ramona provides a clear path the listener can follow to move from Victim to Survivor to Overcomer.



Your best days are ahead of you when you intentionally pursue healing well. You are worth every bit of effort this journey requires. There IS life after abuse. A GREAT life. Consider allowing Dr. Ramona to come alongside you as you take your first steps to Healing Well, so you can truly Live Free!
Genres: