Healthy Guy: The Ultimate Guide Towards a Happier and Healthier You, Learn All the Useful Information and Tips on How You Can Shape Up and Have a Better Life
Unabridged Audiobook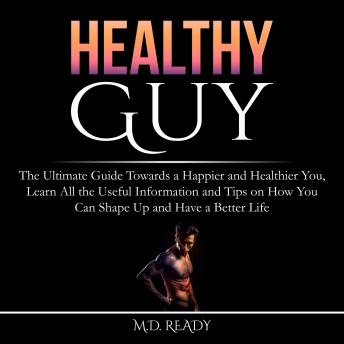 Duration:
0 hours 21 minutes
Summary:
Healthy Guy: The Ultimate Guide Towards a Happier and Healthier You, Learn All the Useful Information and Tips on How You Can Shape Up and Have a Better Life

There are different fad diets or supplements left and right nowadays because people are always dreaming of a magic pill that would instantly help them shed pounds. They want a quick and easy fix to their weight problems. But the truth is, there's no magic bullet that will make you lose weight without any hard work on your part. The only way to lose weight and have good health is by eating right and doing exercise.

Do you want to live longer? How about happier and healthier? I'm sure you and everyone else want all these things but not everyone are doing something to make sure they all end up this way. But you can. This audiobook will give you all the important information you need in order to live a healthier, happier, and longer life. It will teach you advice on how you can take care of your body and health to keep you away from sickness and help you live a longer life.

This audiobook will teach you about the following topics:

- Health Basics

- In-Depth Concepts

- Be Happier

- Supplements And Our Mindset

- Exercise and Concrete Tips

There are lots of ways to be happy and healthy but making all the necessary is ultimately up to you. You can start one step at a time with your diet and exercise and gradually increase it to more. The important thing is you've taken the first step and you just need to stay motivated to continue the whole process.

If you want to discover how to live your best life, both mentally and physically, scroll up and click 'add to cart' now.
Genres: