Herding Tigers: Be the Leader That Creative People Need
Unabridged Audiobook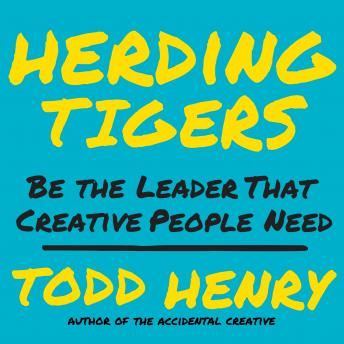 Duration:
6 hours 26 minutes
Summary:
Successful leaders of creative teams have mastered the difficult transition from doing the work to leading the work, and this book shows how. Todd Henry picks up where The Accidental Creative left off, and provides an indispensable handbook of on-the-ground, tactical advice for new managers of creatives. He draws from interviews with brilliant leaders and his experience consulting in creative organizations to share a wealth of practical advice, including:

- Why conflict can be a good thing, and how to manage it in a healthy way.

- How to build time and attention buffers to protect your team's ability to do its best work.

- How to deal with the imbalance of power on your team, and manage inevitable struggles that arise.

- How to create 'hunting trails' that will keep your team inspired and motivated to deliver brilliant work.

- Why you should still 'get your hands dirty', even as you strive to remove yourself from the work.

- Why you should fight to measure value, not time, when evaluating your team's work.
Genres: