The Hidden Family: Book Two of Merchant Princes
Unabridged Audiobook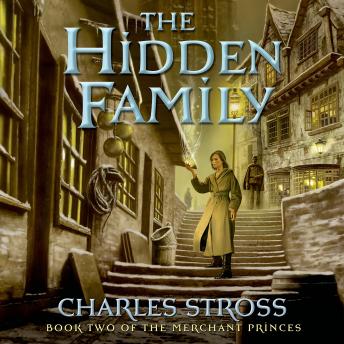 Duration:
11 hours 51 minutes
Summary:
The Merchant Princes is a sweeping new series from the hottest new writer in science fiction!

The six families of the Clan rule the kingdom of Gruinmarkt from behind the scenes, a mixture of nobility and criminal conspirators whose power to walk between their world and ours make them rich in both. Braids of family loyalty and intermarriage provide a fragile guarantee of peace, but a recently ended civil war has left the families shaken and suspicious.

Miriam, a hip tech journalist form Boston, discovered her alternate-world relatives with explosive results that shook three worlds. Now, as the prodigal Countess Helge Thorold-Hyorth, she finds herself ensnared in schemes and plots centuries in the making. She is surrounded by unlikely allies, lethal contraband, and, most dangerous of all, her family. With her modern American attitudes, she's not sure she can fit in, or if she even wants to, but to stay alive, she really has no choice.

To avoid a slippery slope down to an unmarked grave, Miriam must build a power-base of her own. She started applying modern business practices and scientific knowledge to a trade heretofore dominated by medieval mercantilists-with unexpected consequences for three different timelines, including the quasi-Victorian one exploited by the hidden family.

Blending the creativity and humor, and the rigor and scope of science-fiction on the grandest scale, Charles Stross has set a new standard for fantasy epics.

Charles Stross is one of the big new SF writers of the 21st century, and the saga of The Merchant Princes is his most ambitious work yet.
Genres: