High School Writing Project 2.0 Anthology Short Story Collection
A free trial credit cannot be used on this title.
Unabridged Audiobook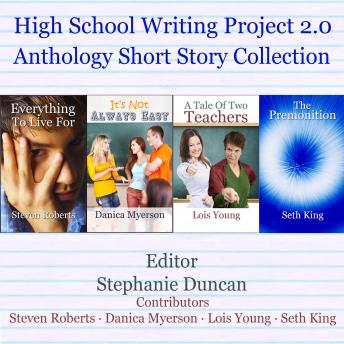 Duration:
1 hours 18 minutes
Summary:
Friends. Fun. Romance. Drama. Danger. Tragedy. HIGH SCHOOL.

High School Writing Project 2.0 features short stories and flash fiction written by high school students about teenage characters. The stories in this edition touch on a variety of subjects including teenage suicide, mental illness, superstition, romance, and ESP.

Short stories included in the anthology:

Everything To Live For by Steven Roberts – When a distraught high school senior decides to end his own life, he is surprised to meet a man claiming to be his guardian angel who shows him the effect his suicide will have on his friends, loved ones, and even strangers.

Danica Myerson contributed the following three stories set among a group of students all in the same psychology class.

It's Not Always Easy – Diane and Abby were best friends. Then Jack entered their lives. Will competition over a cute guy ruin their friendship?

What The Eye Can't See – Who would have guessed that underneath Kelly's silent, sweet personality there was a dangerous and violent girl waiting for her chance to come out?

A State of Mind – Chain letter e-mails don't mean anything. They're only superstition. Right?

The Premonition by Seth King – Greg awakens from a bad dream convinced that something awful is going to happen that day. His older sister insists that he's reacting to nothing more than an overactive imagination. Proving that his nightmare was indeed a psychic premonition will come at a terrible price.

Lois Young provided three thoughtful essays for the collection.

A Tale of Two Teachers takes a humorous look back at the contrasting styles of her two sixth grade teachers.

If I Could Be Principal lays out her vision for changing her high school.

The Christmas Package tells a simple story of a life lesson learned the hard way.
Genres: