The Highlander's Eternal Love Part 1
Unabridged Audiobook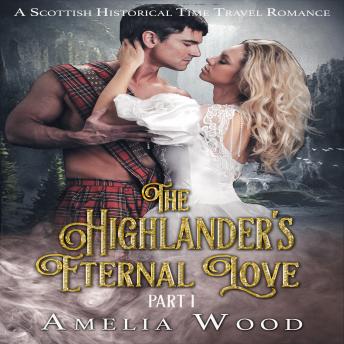 Duration:
1 hours 48 minutes
Summary:
The Highlander's Eternal Love Part 1 (The Story Begins)
Laird Brodie Cameron was focused on keeping his clan safe during a time of uneasy peace. He had no time to marry, but without an heir, the Cameron clan is vulnerable. Taking things into her own hands, his sister Hilda blackmails the grandson of a powerful witch into casting a love spell, but rather than making Brodie fall in love, the spell searches for his true love...and pulls her through the constructs of time.

In present day New York, Emma's life had been stale for awhile, and her cynicism only grew, but it isn't until she falls through a portal and lands in Medieval Scotland that she realizes she'd put her life on hold. She's willing to give the gorgeous Highlander a chance if it means that she'll have the future with love and family that she's always wanted.

Brodie doesn't believe in the magic of love, but when he gives into his desires, the nights turn hot, and he risks losing his heart. When Emma discovers that she's pregnant, she learns that there is a way for her to go home. Will Brodie be able to put love before duty, or will he lose her, and the future she carries, forever?
Genres: