HIIT: The 20-Minute Dream Body with High Intensity Interval Training
Unabridged Audiobook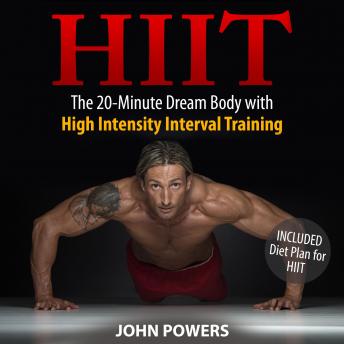 Duration:
2 hours 15 minutes
Summary:
Struggling to lose weight and tone muscle no matter how hard you train? Discover a rapid workout strategy for creating your dream body in just 20 minutes a day.

Does your ideal body seem like it's a thousand workouts away? Has your expensive gym membership chipped away at your wallet but not at your midsection? Pro trainer and fitness author John Powers will show you how to make rapid gains from a well-structured, high intensity interval training program.

HIIT: The 20-Minute Dream Body with High Intensity Interval Training is a complete system packed with incredibly efficient cardiovascular, muscular, and skeletal exercise routines. Through Powers' methods, you'll discover how to use short, powerful workouts to get your body ripped in a hurry. By using the HIIT training program, you'll produce results like never before in 20 minutes a day of work.

In HIIT, you'll discover:

- Proven exercises to strengthen both your upper and your lower body

- A fully-illustrated guide to a 20-minute workout program that'll get you stellar results

- Specific body toning techniques for women

- The best HIIT workout plans for you to lose weight

- Optimum training frequencies, nutrition plans, and much, much more!

HIIT is the complete A-Z reference guide you need for short workouts that get you fit faster. If you like step-by-step instructions, quick results, and learning from a master at his craft, then you'll love Powers' high-intensity handbook.

Buy HIIT to start experiencing rapid results today!
Genres: