Himalayan Adventures: True stories of exploration from the diaries of some of the greatest explorers of the 19th and 20th centuries
A free trial credit cannot be used on this title.
Unabridged Audiobook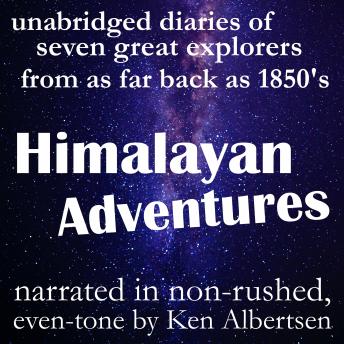 Duration:
4 hours 5 minutes
Summary:
Real-life memoirs taken from the diaries of seven great explorers - dating from 60 to 180 years ago. 

Of these seven adventure stories, five take place in the 1800's and two take place in 1953. 215 minutes of listening pleasure. These stories are narrated directly from the respective explorers' diaries, with no editing. The language used is the English usage of that decades-ago time period, with no substitution of modern words or phrases. The seven true tales are particularly good for youngsters who could benefit from hearing such stories read to them - but any age will appreciate them, particularly when traveling and/or stuck in commuting traffic. Includes Sir Edmund Hillory's diary entry which articulates the historic first ascent, in 1953, of Mt. Everest, with Tenzing Norgay. 

There is the story of the Japanese explorer with no funds, who finds himself solo, on a steep snowy mountainside at night, with his only companions being two sheep he commandeered to carry his gear. Another story tells of the Austrian who set out alone to be the first to summit a towering Himalayan peak, and winds up spending an entire night standing upright on a near-verticle ice cliff - with only an ice-screw keeping him from falling thousands of meters.

Narrated by Ken Albertsen in a non-rushed comfortable manner. Most narrators think they have to sound excited every moment, in order to keep the listener interested. Many audio books edit-out spaces between words and sentences - which give the narration a rushed/clipped unnatural sound. In this Himalayan series, the true stories speak for themselves, with no need for theatrical or clipped voices.  
Genres: