Hoax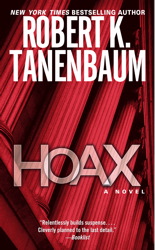 Duration:
5 hours 0 minutes
Summary:
New York District Attorney Butch Karp goes head-to-head with a crooked wannabe mayor, the rap underworld, and rogue churchmen in yet another pile-driving thriller in the New York Times bestselling series
When a rap impresario is gunned down in his limo in New York City, it appears that gang-related violence has reared its ugly head once again. But nothing's as it seems in this virtuoso thriller from Robert K. Tanenbaum.
For a start, there's Andrew Kane, a man with terrible secrets, who wants to be mayor and control the power elite like pawns. In edition, the Catholic Church is about to face some secrets of its own when Karp's wife, Marlene, rehabilitating at a Taos, New Mexico art colony, stumbles upon a sex abuse murder scandal brewing at a church retreat.
Back in New York evidence surfaces connecting Rogue Priests to murdered kids. Karp attempts to untangle a web of violence and corruption that threatens his career, and the lives of his family.
Genres: