Hog Pilots, Blue Water Grunts: The American Military in the Air, at Sea, and on the Ground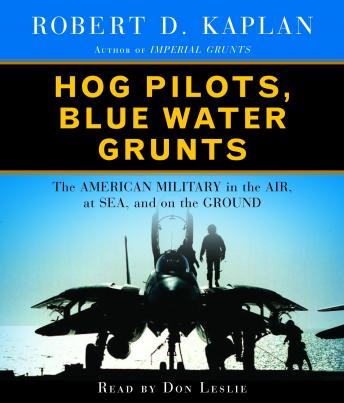 Duration:
8 hours 48 minutes
Summary:
In this extraordinary book, Robert D. Kaplan lets readers experience up close the American military worldwide in the air, at sea, and on the ground: flying in a B-2 bomber, living on a nuclear submarine, and traveling with a Stryker brigade on missions around the world. Provided unprecedented access, Kaplan moves from destroyers off the coast of Indonesia to submarines in the central Pacific, from simulated Iraqi training grounds in Alaska to technology bases in Las Vegas, from army and marine land forces in the heart of the Sahara Desert, to air bases in Guam and Thailand and beyond.

Hog Pilots, Blue Water Grunts provides not only a riveting ground-level portrait of the Global War on Terrorism on several continents, but also a gritty firsthand account of how U.S. soldiers, sailors, marines, and airmen are protecting sea-lanes, providing disaster relief, contending with the military rise of China, fighting the war in Iraq, and crafting contingency plans for war with North Korea and Iran.

Expanding on Kaplan's acclaimed Imperial Grunts, the first volume of his exploration of the American military, which "offers the reader an enlightened way to understand what is happening in the world" (San Francisco Chronicle), Hog Pilots, Blue Water Grunts shifts focus to the Pacific, where emerging Asian powers present vexing diplomatic and strategic challenges to U.S. influence. In this volume, Kaplan completes his analysis of army Special Forces and the marines, while also taking readers into the heart of the myriad tribal cultures of the air force, surface and subsurface navies, and the regular army's Stryker
brigades. Kaplan goes deep into their highly technical and exotic worlds, and he tells this story through the words and perspectives of the enlisted personnel and junior officers themselves–men and women who, as he writes, have "had their national identities as Americans engraved in sharp bas-relief."

This provocative and illuminating book, like Imperial Grunts before it, not only conveys the vast scope of America's military commitments, which rarely make it into the news, but also shows us astonishing and vital operations right as they unfold–from the point of view of the troops themselves.
Genres: