Hollywood Wives - The New Generation
Abridged Audiobook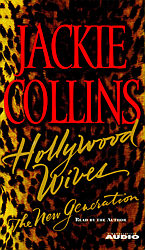 Duration:
6 hours 0 minutes
Summary:
The sexy page-turner picks up where the #1 New York Times bestselling Hollywood Wives left off showing Jackie Collins at her "ultra-celeb, super accessorized, bestselling best" (Publishers Weekly).

Power. Sex. Money. Fame. The new Hollywood wives have it all. And if they don't have it—they want it. And whatever these women want—they get.

Ambitious, young, smart, and lethal, the Hollywood wives are back with a vengeance, pushing their way to the forefront. Forget shopping—they're into achieving everything their famous husbands have and more, and they don't care how they do it.
Genres: