The Home-Maker
Unabridged Audiobook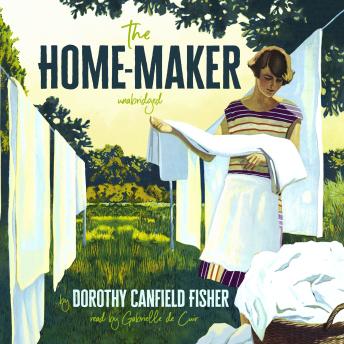 Duration:
8 hours 20 minutes
Summary:
Written by a well-known educational reformer and social activist who counted Eleanor Roosevelt among her supporters, Dorothy Canfield Fisher's wildly successful The Home-Maker was ahead of its time in its portrayal of gender expectations.

Dedicated to keeping her home immaculate and organized, Evangeline Knapp runs a tight ship, with the Knapp family constantly on edge. Meanwhile, her husband Lester, a dreamer, drifts through his bookkeeping job. Both feel depressed and out of place. Suddenly, after a near-fatal accident, their roles are reversed: Lester is confined to home in a wheelchair and his wife must work to support the family. Evangeline dedicates herself to improvement and customer service, something she learned working in her father's store as a child. She quickly moves up the ladder, while Lester brings contentment to the household. As he slowly begins to heal, both dread the possibility of returning to their old roles. Is it possible to remain in their current roles, or must they conform to gender stereotypes?

The Home-Maker was one of the top-ten bestselling books in the US in 1924, and Fisher's deft handling of societal expectations of men and women and role reversal in marriage continues to secure its relevance today.
Genres: