Homemade Body Butter: A Practical Guide for Making Homemade Body Butter and Beauty Products Using Special Organic Recipes
A free trial credit cannot be used on this title.
Unabridged Audiobook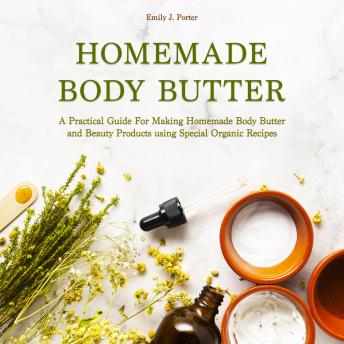 Duration:
3 hours 0 minutes
Summary:
Did you ever think about how to make homemade Body Butter?

Homemade Body Butter is a book designed to guide the readers on how to make Homemade Body Butter recipes. The book is a beginner's guide to making homemade body butter and other homemade beauty recipes. Homemade Body Butter offers an insightful view into the nature of the human skin and how to care for the body.

In this book, you will learn how to make the following homemade beauty products:


- Body butter and oils (Body Butter Bars, Healing Comfrey Salve, Gardener's Herbal Balm, Whipped Shea Body Butter, Lovely Body Butter, Luxurious Body Oil, Sore Muscle Massage Oil, Warm Cinnamon Massage Oil, Cuticle Saver Treatment, etc).
- Body bath recipes (Coconut, Lime, and Rose Petals Bath, Mermaid Bath, Sunshine C Bath, Bath Melts, Moisturizing Bath Salts, Bath Fizzies, Angel Soak for Cold and Flu, Chamomile and Oat Super Soothe-Me Bath).
- Facial products recipes (Macadamia & jojoba cleansing oil, Lavender & witch hazel skin freshener, Neroli hydrating spritzer, Regenerating skin serum, Green clay cleansing mask, Moisturizing vitamin mask, etc)
- Whole body spa (Coconut Rice Conditioning Exfoliant, Vanilla Isle Perfume, Blushing Bride Ubtan Exfoliant, Fizzy Mojito Foot Spa, etc).
- Hair beauty recipes
- Eye beauty recipes
- Lip beauty recipes
- Face beauty recipes
- Décolletage/neck beauty recipes
- Hand beauty recipes
- Feet beauty recipes

Both adults and teens can enjoy the beauty this book offers. Homemade Body Butter is one of the best beauty books you can see out there online. It is well packed with numerous homemade beauty products to best serve the need of those seeking resplendent skin and whole body spark.
Genres: