House Secrets: A Joe DeMarco Thriller
Unabridged Audiobook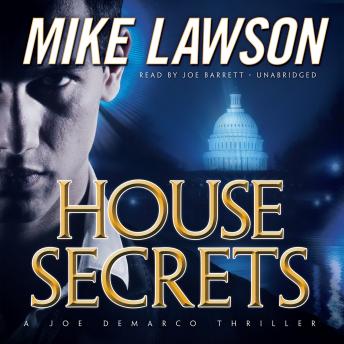 Duration:
11 hours 30 minutes
Summary:
Mike Lawson's previous novels starring Joe DeMarco, fixer for the Speaker of the House, have earned him a loyal following from thriller aficionados and a place among the most talented and captivating thriller writers focusing on the dangerous games of our nation's capital.
In House Secrets, DeMarco is sent to investigate the death of a reporter, the son of one of his boss' old colleagues, even though it appears to be nothing more than an unfortunate accident. He soon learns that the reporter was on the trail of Senator Paul Morelli, a rising star considered a shoo-in for his party's presidential nomination. Some politicians are lucky, and Morelli has been luckier than most, but his past has already been thoroughly scrutinized and he looks clean. But then, why is DeMarco being followed by a pair of rogue agents who freelance for the CIA?
Dirty secrets, beltway politics, and divided loyalties threaten as DeMarco's investigation spirals dangerously out of control. Filled with surprising twists, a captivating plot, and excellent characters both old and new, House Secrets is Lawson's best book yet.
Genres: