How an Economy Grows and Why It Crashes: Collector's Edition
Unabridged Audiobook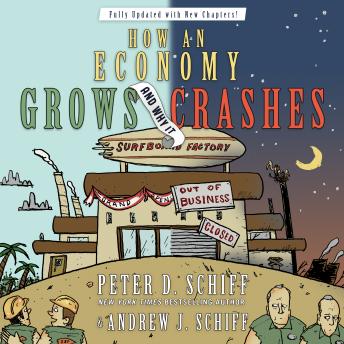 Duration:
5 hours 5 minutes
Summary:
Straight answers to every question you've ever had about how the economy works and how it affects your life

In this Collector's Edition of their celebrated How an Economy Grows and Why It Crashes, Peter Schiff, economic expert and bestselling author of Crash Proof and The Real Crash, once again teams up with his brother Andrew to spin a lively economic fable that untangles many of the fallacies preventing people from really understanding what drives an economy. The 2010 original has been described as a 'Flintstones' take on economics that entertainingly explains the beauty of free markets. The new edition has been greatly expanded in both quantity and quality. A new introduction and two new chapters bring the story fully up to date.

With the help of lively humor and deceptively simple storytelling, the Schiffs bring the complex subjects of inflation, monetary policy, recession, and other important topics in economics down to Earth. The story starts with three guys on an island who barely survive by fishing barehanded. Then one enterprising islander invents a net, catches more fish, and changes the island's economy fundamentally. Using this story the Schiffs apply their signature take-no-prisoners logic to expose the glaring fallacies and gaping holes permeating the global economic conversation.
Genres: