How To Become a Clinical Psychologist: Your Step By Step Guide To Becoming a Clinical Psychologist
A free trial credit cannot be used on this title.
Unabridged Audiobook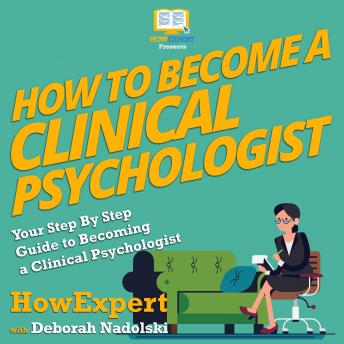 Duration:
1 hours 40 minutes
Summary:
Are you interested in becoming a clinical psychologist? If your answer is "yes," this is book is for you. This step-by-step guide will teach you how to forge a rewarding, exciting career in clinical psychology. In this book, you will learn everything you need to know to become a clinical psychologist.

• Learn how to polish your personal statement, curriculum vitae, resume, thesis, and take tests needed to gain admittance into a clinical psychology program.

• The ins-and-outs of starting your own private clinical psychology practice, broken down into simple, clear steps.

• Gain a better understanding of the life of a clinical psychologist career and potential avenues.

• How to apply an array of psychological theories used in everyday clinical psychology practice.

• Gain firsthand knowledge of psychological disorders, reasons people enter counseling, and types of theories that resonate with you.

• Get an overview of recent advancements in clinical psychology and its real-life applications.

• Select a specialized field that captures your interest and pick the clinical psychology school most suited to your interests.

• Plus, read how clinical psychologists have successfully treated disorders, such as anxiety, phobias, PTSD, and alcoholism

• Master the dreaded dissertation with easy, simple steps

• Learn the top clinical psychology jobs in demand and various work environments available to you.

Structured from your educational journey to top clinical psychology jobs, each chapter focuses on clear and concise steps to help you achieve your goals. Up-and-coming fields, new trends, and hot job jobs in demand are included in this action packed guide.

HowExpert publishes quick 'how to' guides on all topics from A to Z by everyday experts.
Genres: