How to Create a Personal Brand without Spending a Fortune: Affordable and Simple Ways to Promote Yourself or Business
A free trial credit cannot be used on this title.
Unabridged Audiobook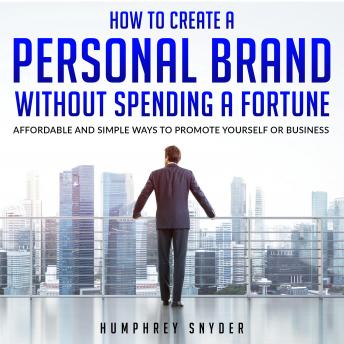 Duration:
2 hours 37 minutes
Summary:
Branding is an important part of growing any enterprise, be it a personality or a business.

To do this, content creation and marketing is a key element for this to work effectively and since there's a growing mistrust of corporate businesses and politicians who are constitutional authority figures.

Branding, be it personal or corporate normally costs a lot of money to achieve not to mention resources and time.

Here's what you can expect:


- What is a personal brand and why you need one.
- Explain places to build a brand online with a small budget.
- The tools YouTube provides through its video streaming and SEO platform.
- Various options Facebook outlays with respect to its vast audience, the large community and
- its advertising campaigns, managers and offers.
- Fully spreads out the usefulness of a website in the creation of a personal brand and how the
- existence and consistency of a blog sets the brand to have a significance in the vast ocean of
- content called the internet.
- And much, much more!
Genres: