How To Draw Cartoons: Your Step By Step Guide To Drawing Cartoons
A free trial credit cannot be used on this title.
Unabridged Audiobook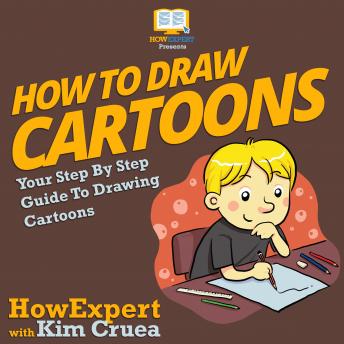 Duration:
1 hours 19 minutes
Summary:
If you are a beginner who wants to learn how to draw cartoons, then get 'How To Draw Cartoons' by a real life cartoon enthusiast and artist.

Cartooning is an art form and for many it's a source of pure entertainment. Whether you've enjoyed watching them or doodling on a notebook, at some point in your life you've been inspired by a cartoon.

If you love cartoons, but have had a hard time creating them, then it's time for you to learn the ABC's of cartooning. With simple steps and easy to follow examples, this book will take you from the ABC's of cartooning to the process of creating your first cartoon scene.

The author covers the creation of your character by taking you through a step by step and part by part instructional journey. You will be shown how to find art in your day to day surroundings and how to find inspiration for your next cartoon character.

Whether you're a novice or are looking to upgrade your skill, this how to draw cartoon characters book will alleviate the stress of cartooning and inspire you to have fun with each stroke of the pencil. Have fun and get creative!


About the Expert

Kim Cruea spent her academic years in Newmarket, Ontario. She attended Glen Cedar P.S. during her early years and later attended Huron Heights Secondary School, and it was there; through the guidance of her grade nine teacher that she would discover her passion for writing. Now a resident of Barrie, Ontario, Kim writes full-time as a freelance writer. She is a loving wife and grateful mother of two children. For more information on Kim Cruea, you can find her on Twitter or Facebook.

HowExpert publishes quick 'how to' guides on all topics from A to Z by everyday experts.
Genres: