How to Improve Your Charisma: Stop Anxiety with Charismatic Communication and Improve Your Small talk Skills
A free trial credit cannot be used on this title.
Unabridged Audiobook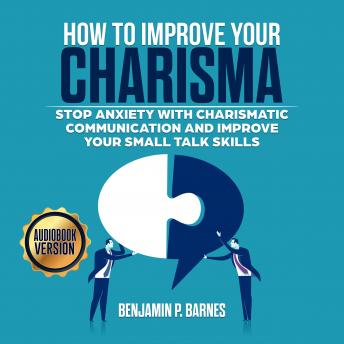 Duration:
3 hours 29 minutes
Summary:
Are you ready to take action and improve yourself?

Because you're about to discover the charisma mindset and building blocks of charisma. This book will change vague terms like charisma and magnetism into well-defined concepts. The provided information is based on solid research and the ideas of acknowledged experts.

Charisma is that special and exceptional talent that makes you discernible, without even trying hard. It's not about being obnoxious and stentorian. However, it's that magnetizing aura that captures everyone's attention and keen interest.

This book contains proven steps and strategies on how to become a truly charismatic person who can inspire positivity in others with a charm and personality like no other. The book will let you know about the elements of charisma and characteristics of a charismatic person.

Through this book, Benjamin takes you through the significance and applications of charisma. This is not a book that will make you charismatic in two days. Instead, it is a book that will lay the groundwork for your success journey.

Charisma is a trait most applicable in leadership and is described as a set of capabilities or personal attributes that make an individual stand out.

The truth is that we are all born very different and unique, and this means in all aspects, including our personalities. The author, however, believes that charisma is something that grows with you depending on the experiences you have in life and the environment. You are the one to decide how confident and charismatic you should be by choosing to believe in yourself and also exercising self-love. This will be viewed in how skillfully you can articulate ideas, goals, and visions

Here Is A Preview Of What You Will Learn..


- What is charisma?
- Elements of charisma
- Increase your charisma and confidence
- Different charisma styles.

And many more…….
Genres: