How To Rescue Abandoned Dogs and Cats: 7 Ways To Save Abandoned Dogs, Cats, and Other Pets
A free trial credit cannot be used on this title.
Unabridged Audiobook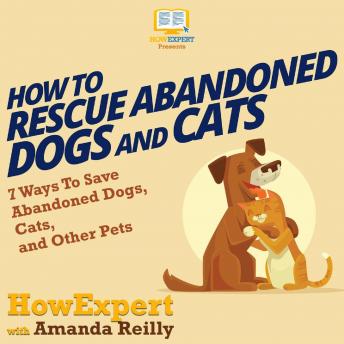 Duration:
1 hours 7 minutes
Summary:
If you want to learn how to rescue pets, then get 'How To Rescue Abandoned Dogs and Pets'.

• Are you an animal lover?

• Are you saddened by the fate of homeless pets?

• Wish you could do something, but you're not sure how?

• You're in luck!

I have written this book from my own experiences to help you do that "something" you've been thinking about. There are hundreds of thousands of homeless pets. If you save even one of them, you have done something! But you don't have to stop there if you don't want to.

This book will help teach you

• How to identify your rescue abilities and goals

• How to start your rescuing efforts

• Where the animals who need your help are

• How to locate and manage a feral cat colony

• The importance of spaying and neutering

• What to expect if you rescue a pregnant cat

• Feline gestation periods

• How to handle the delivery of kittens

• How to care for kittens in the first 8 weeks

• How to meet and network with other cat rescuers

• How to expand and set up a corporation for your rescue

• The benefits of applying for 501(c)(3) non-profit corporation status for your organization

• Tips on recruiting volunteers

• How to request donations for your rescue

About the Expert

Just like the people I wrote this book for, my husband and I started our pet rescue efforts on a very small scale. We responded to a craigslist ad by a local rescue organization that was trying to rehome an abandoned dog. We contacted the administrator and adopted the dog. As we spoke, she gave us some back-ground on her charity and explained how many dogs and cats are abandoned and homeless, and end up being euthanized at the local shelter.Through her and social media, we became more and more interested in doing our part.

HowExpert publishes quick 'how to' guides on all topics from A to Z by everyday experts.
Genres: