How to Rule the World from Your Couch
Abridged Audiobook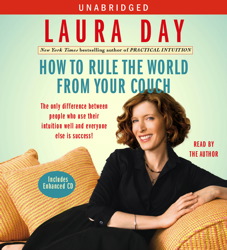 Duration:
7 hours 30 minutes
Summary:
'You don't have to be full of 'get up and go' to have success, find love, or even earn a living. There are tools, innate tools, that permit you to do much of the heavy lifting without your feet ever touching the floor.'

Internationally renowned teacher and intuitive Laura Day will show you how to create success in any area by using your brain in unique and compelling ways so that your innate intuition can propel you ahead to successful solutions. The step-by-step exercises included—many of which can (and should!) be done from the comfort of your couch—will show you how to:

• Find and secure your dream job

• Maintain solid relationships, even at a distance

• Lose weight by reclaiming the body you were meant to have

• Know how to spot your perfect mate

• Make better investments and business decisions

• Have an understanding relationship with your child

• Identify which opportunities will pan out

• And much more!
Genres: