The Human Right: To Know Jesus Christ and to Make Him Known
Unabridged Audiobook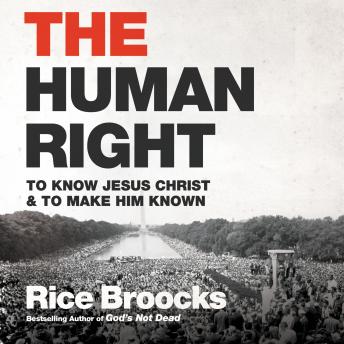 Duration:
8 hours 18 minutes
Summary:
Many Christians believe we need to choose between fighting injustice and communicating the good news of Jesus Christ. But what if failing to speak the truth is ultimately the greatest injustice of all? If we truly believe the human heart is the source of injustice and the gospel is the only real solution, shouldn't sharing the gospel's transforming truth be our highest priority?

With his thoughtful, accessible style, Rice Broocks explores why knowing the gospel is, in fact, every person's greatest right—and therefore the greatest justice issue of our time.Drawing on contemporary stories and rich historical sources, The Human Right




- answers the question, What is truth?
- frames evangelism as a human rights issue,
- explains why secularism lacks the foundation to ground human rights,
- gives evidence for the existence of the human soul, and
- describes how the Bible has shaped the modern world.



The Human Right urges us persuasively toward a renewed conviction that our ultimate calling is to proclaim the gospel—the only truth that has the power to change our world, to change us, from the inside out.
Genres: