I Lost My Love in Baghdad: A Modern War Story
Unabridged Audiobook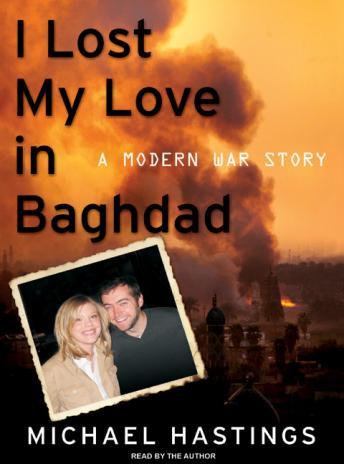 Duration:
7 hours 30 minutes
Summary:
At age twenty-five, Michael Hastings arrived in Baghdad to cover the war in Iraq for Newsweek. He had at his disposal a little Hemingway romanticism and all the apparatus of a twenty-first-century reporter-cell phones, high-speed Internet access, digital video cameras, fixers, drivers, guards, and translators. In startling detail, he describes the chaos, the violence, the never-ending threats of bomb and mortar attacks, and the front lines that can be a half mile from the Green Zone-indeed, that can be anywhere. This is a new kind of war: private security companies follow their own rules, or lack thereof; soldiers in combat get instant messages from their girlfriends and families; and members of the Louisiana National Guard watch Katrina's decimation of their city on a TV in the barracks.

Back in New York, Hastings had fallen in love with Andi Parhamovich, a young idealist who worked for Air America. A year into their courtship, Andi followed Michael to Iraq, taking a job with the National Democratic Institute. Their war-zone romance is another window into life in Baghdad. They call each other pet names; they make plans for the future; they fight, usually because each is fearful for the other's safety; and they try to figure out how to get together, when it means putting bodyguards and drivers in jeopardy. Then Andi goes on a dangerous mission for her new employer-a meeting at the Iraqi Islamic Party headquarters that ends in catastrophe.

Searing, unflinching, and revelatory, I Lost My Love in Baghdad is both a raw, brave, brilliantly observed account of the war and a heartbreaking story of one life lost to it.
Genres: