I'd Rather Eat Pants
Unabridged Audiobook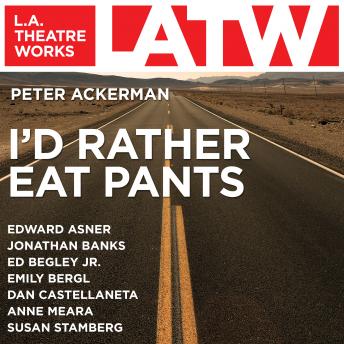 Duration:
0 hours 37 minutes
Summary:
What do fast-talking, New York octogenarians, Abe and Mabel, do when their life-long grocery store, Pepperstein Produce, is driven out of business by Wonder Food? They embark on the ultimate road trip with a nineteen year-old stoner, Wisdom, to Los Angeles to become actors.

An L.A. Theatre Works full-cast production, starring Edward Asner, Jonathan Banks, Ed Begley Jr., Emily Bergl, Dan Castellaneta, Derek Cecil, Bob Edwards, Clea Lewis, Anne Meara, Kendall Schmidt and Susan Stamberg.

Directed by Gordon Hunt. Recorded in front of a live audience by L.A. Theatre Works.
Genres: