Ignatian Discernment in Daily Life: Finding God in All Things
Unabridged Audiobook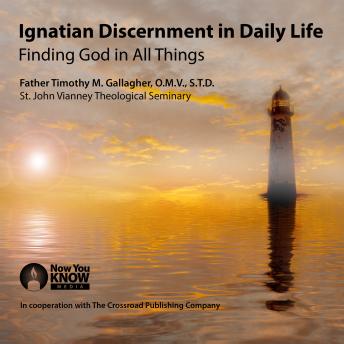 Duration:
7 hours 24 minutes
Summary:
In this course, you will enrich your daily life with the timeless spirituality of St. Ignatius of Loyola. Your guide, Fr. Timothy M. Gallagher, O. M. V. , S. T. D. , is a renowned Ignatian spiritual leader and brilliant teacher whose expertise will enlighten you.

On the path to God, we all experience daily ups and downs. Sometimes prayer comes alive, inspiring us to serve our neighbors and the Church. At other times, our spiritual life seems dry; we grow discouraged, and God feels distant.

Now, you can use a five-hundred-year-old method to deepen your awareness of God. In Ignatian Discernment in Daily Life: Finding God in All Things, you will explore the fourteen rules for the discernment of spirits as laid out in the Spiritual Exercises of St. Ignatius of Loyola. Fr. Timothy Gallagher helps you apply the rules to daily life, and his accessible lectures are perfect for both newcomers and those versed in Ignatian spirituality.

You will begin this course by studying the inspiring life of St. Ignatius, whose conversion story served as a model for his spiritual writings. Then, you will study each rule one-by-one, learning powerful techniques for responding to spiritual consolations and desolations. You will discover detailed commentary on each rule and an abundance of practical examples. Retreat leaders, spiritual directors, priests, counselors, and lay Christians will discover the unique value of these rules today. Fr. Gallagher's clear presentations make a classic spiritual text accessible to all who seek spiritual growth.

Ignatius's practical wisdom shows us the way forward. Let his words guide your spiritual life today.

This course is part of the Learn25 collection.
Genres: