Il Killer Dell'orologio (Un Mistero di Riley Paige—Libro 4)
A free trial credit cannot be used on this title.
Unabridged Audiobook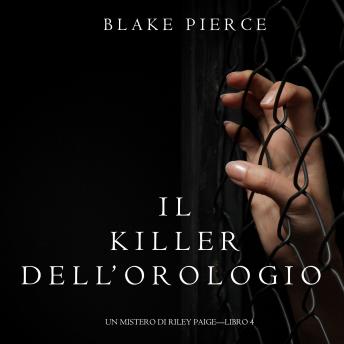 Duration:
7 hours 39 minutes
Language:
Italian
Summary:
"Un capolavoro del giallo e del mistero! L'autore ha svolto un magnifico lavoro, a sviluppare i personaggi con un approfondito lato psicologico, così ben descritto, che ci fa sentire all'interno della loro mente, provare le loro paure e gioire del loro successo. La trama è molto intelligente e vi intratterrà per tutta la durata del libro. Ricco di colpi di scena, questo libro vi terrà svegli fino all'ultima pagina."
--Books and Movie Reviews, Roberto Mattos (su Il Killer della Rosa)

IL KILLER DELL'OROLOGIO è il libro #4 nella serie di bestseller dei misteri di Riley Paige, che comincia con IL KILLER DELLA ROSA, bestseller (Libro #1)!

Delle donne vengono ritrovate morte sul ciglio solitario di un'autostrada nel Delaware. Alcune sono scomparse inspiegabilmente da molto tempo, mentre altre vengono ritrovate cadaveri, esposti in modi bizzarri e misteriosi. Quando viene scoperta una pista, diventa chiaro all'FBI, che un contorto serial killer è a piede libero—adescando ragazze, secondo subdoli schemi—e che non smetterà mai di uccidere.

L'FBI, disperata di risolvere il caso, affida il compito di occuparsene all'Agente Speciale Riley Paige. Ma la brillante Riley, ancora riprendendosi dai casi precedenti, ha finalmente trovato la quiete nella sua vita domestica, ed è determinata ad aiutare la figlia April a tornare in piedi. Ma quando gli omicidi diventano troppo inquietanti, troppo urgenti—e quando l'ex partner, Bill, la implora—Riley finalmente realizza di non potersi tirare indietro.

La caccia conduce la donna nelle profondità di un mondo oscuro formato da autostoppiste, girovaghe, donne di cui non importa a nessuno. Quando scopre che diverse donne sono tenute prigioniere, in vita, e che c'è ancora il tempo per salvarle, si rende conto che non si fermerà davanti a niente, ossessionata dal caso e spingendosi al limite. Tuttavia, Riley realizza che la sua stessa vita sta crollando, e che la sua fragile psiche può a malapena gestire la tensione. In una frenetica corsa contro il tempo, dovrà penetrare nella mente del killer per salvare quelle donne—e per impedire a se stessa—di crollare.

Un cupo thriller psicologico, caratterizzato da una suspense mozzafiato, IL KILLER DELL'OROLOGIO è il libro #4 in un nuova serie affascinante—con un nuovo amato personaggio—che vi terrà incollati alle pagine fino a notte fonda.

Il libro #5 nella serie di Riley Paige sarà presto disponibile.
Genres: