Il Killer Pagliaccio (Gli Inizi di Riley Paige—Libro 2)
A free trial credit cannot be used on this title.
Unabridged Audiobook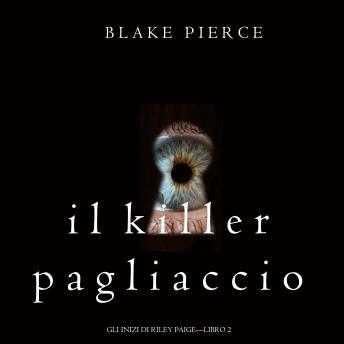 Duration:
6 hours 49 minutes
Language:
Italian
Summary:
"Un capolavoro del giallo e del mistero! L'autore ha svolto un magnifico lavoro, sviluppando i personaggi con un approfondito lato psicologico, descritto con tale cura da farci sentire all'interno della loro mente, provare le loro paure e gioire del loro successo. La trama è molto avvincente e vi catturerà per tutta la durata del libro. Ricco di colpi di scena, questo libro vi terrà svegli fino all'ultima pagina."
--Books and Movie Reviews, Roberto Mattos (su Il Killer della Rosa)

IL KILLER PAGLIACCIO (Gli Inizi di Riley Paige—Libro Due) è il libro #2 in una nuova serie di thriller psicologici, di Blake Pierce, autore di serie di successo, il cui bestseller gratuito Il Killer della Rosa (Libro #1) ha ricevuto oltre 1.000 recensioni da cinque stelle.

La brillante tirocinante dell'FBI Riley Paige, a soli 22 anni, si sforza di interpretare gli enigmi del sadico serial killer, definito dai media come "killer pagliaccio"; ma diventa una questione personale, quando si ritrova anche lei nel mirino, ed è costretta a battersi per la propria vita.

La neolaureata Riley Paige è accettata nel prestigioso programma estivo di tirocinio dell'FBI, ed è determinata a farsi valere. Impegnata nei vari dipartimenti dell'FBI, pensa che sarà un'estate tranquilla, finché un serial killer tiene Washington col fiato sospeso. Denominato il "killer pagliaccio", veste e trucca le sue vittime da pagliacci, e si prende gioco dell'FBI con allettanti enigmi, che lancia tramite i media. Pertanto tutti si chiedono: è lui stesso un pagliaccio?
Sembra che soltanto Riley abbia la mente abbastanza brillante per decodificare le soluzioni. Eppure, il suo viaggio nella mente del killer è troppo cupo, e la battaglia si rivela troppo personale, perché la giovane ne esca fuori incolume. Riuscirà a vincere questo mortale gioco del gatto col topo?

Un thriller ricco di suspense mozzafiato, IL KILLER PAGLIACCIO è il libro #2 in una nuova affascinante serie, che vi terrà incollati alle pagine fino a notte tarda. Condurrà i lettori a 20 anni prima, all'inizio della carriera di Riley, e si completa perfettamente con la serie che comincia con IL KILLER DELLA ROSA (Un Mistero di Riley Paige), che include ben 13 libri e a seguire.

Il libro #3 nella serie de GLI INIZI DI RILEY PAIGE sarà presto disponibile.
Genres: