I'm Sorry I Haven't A Clue Live: Volume 2
Unabridged Audiobook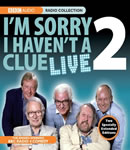 Duration:
2 hours 33 minutes
Summary:
For everyone who's ever wanted to attend a live recording of 'I'm Sorry I Haven't a Clue', but never had the opportunity, here's your chance to catch the complete Clue experience. From out-takes and ad-libs to asides to the audience - including some very cheeky banter - here are all the bits you never get to hear on the radio, as well as all the puns, songs, silly games and sparkling comedy that you've come to expect from the Clue team.

These two specially extended compilations, from 1995 and 1996, feature players Graeme Garden, Barry Cryer, Tim Brooke-Taylor and Willie Rushton, with introductions by Clue producer Jon Naismith. Proceedings are chaired by the late, great Humphrey Lyttelton. They include all your favourite games: 'One Song to the Tune of Another', 'Cheddar Gorge', 'Sound Charades', 'Doctors' Song Book', plus there's 'Name that Barcode', 'Radio Times 2010', 'Celebrity Organs', 'Odd One Out', 'Stars in Their Ears' - and one that features a famous Underground station...

So get behind the scenes with this release and find out just how much fun a Clue recording can be.
Genres: