Increase Your Childs Self Confidence and Self Esteem
A free trial credit cannot be used on this title.
Unabridged Audiobook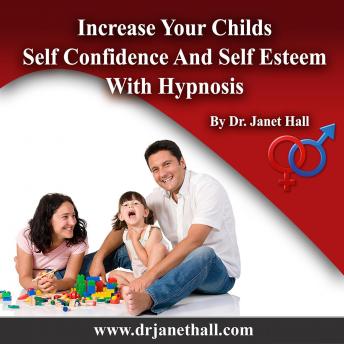 Duration:
0 hours 12 minutes
Summary:
Do you want to be the kindest and most understanding parent you can be? Do you want your children to be confident and have good self-esteem? What if this hypnosis recording could work like magic to build your child's confidence and self-esteem into rock-hard conviction?W ould you like to build your child's self-resilience so that they can roll with life's challenges and withstand even the most nasty bullies at school!

The purpose of this audio recording by Dr Janet Hall, Clinical Psychologist, is to let your child have positive suggestions delievered hypnotically, so that you, the parent, can best support your child to build a strong confident Self-Esteem which endures and lasts in spite of life's tough times.

A good Self-Esteem doesn't rely on consistent successes. Parents can't and shouldn't try to protect their children from upsets and learning experiences. In fact, they grow in maturity and in Self-Esteem when they know they've put in their best effort even if they didn't succeed in the eyes of the external world.

The Three Key aspects of Self-Esteem are:

No. 1 Being Capable is about saying, 'I can make a difference!'
No. 2 Being Connected is simply belonging, 'I Belong'
No.3 Being Worthwhile is about knowing that, I'm O.K. no matter what.
So the key phrase for us to learn is, I'm Capable, I Belong and I'm O.K. This is one of a series of hypnosis audios presented by Dr Janet Hall called:'How To Get Sensational Results With Dr Janet Hall's Hypnosis'.

Dr Janet Hall is a Clinical Psychologist, hypnotherapist, author, speaker and media consultant. Dr Jan authored eight books on family and relationships and recorded over 55 audio-recordings, many of them including hypnotic material. She founded Richmond Hill Psychology in Melbourne, Australia.
Genres: