Indiana Jones and the Kingdom of the Crystal Skull (TM)
Unabridged Audiobook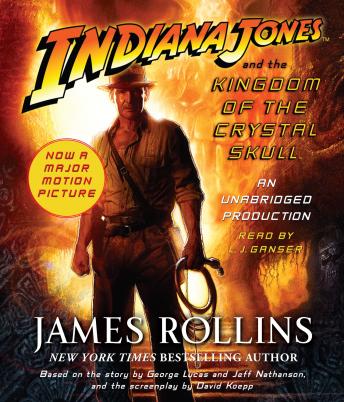 Duration:
8 hours 56 minutes
Summary:
"The name is Jones. Indiana Jones."

He's back. Everyone's favorite globe-trotting, tomb-raiding, wisecracking archaeologist is finally at it again.

Now it's 1957, the atomic age is in full swing, and McCarthy-era paranoia has the nation on edge. But for Indiana Jones, the Cold War really heats up when his latest expedition is crashed by a ruthless squad of Russian soldiers. Commanded by a sword- wielding colonel who's as sinister as she is stunning, the menacing Reds drag an unwilling Indy along as they brazenly invade American soil, massacre U.S. soldiers, and plunder a top-secret government warehouse. Their objective: a relic even more precious–and powerful–than the mythic Ark, capable of unlocking secrets beyond human comprehension.

Fast thinking and some high-speed maneuvers help Jones turn the tables, and a one-in-a-million escape narrowly saves him from certain death. But when he's tarred as a suspected spy and fired by his university, Indy thinks it may be time to hang up his hat.

Fate, however, has other plans. Suddenly the road to retirement takes a sharp detour when a colleague's kidnapping leads Jones into the depths of the Amazon jungle on a desperate rescue mission. With a hot-headed teenage biker as his unlikely wing man and his vengeful new Russian nemesis waiting for a rematch, Indy's back in the game–playing for a prize all the wonders of the world could never rival.
Genres: