Internship in Murder
Unabridged Audiobook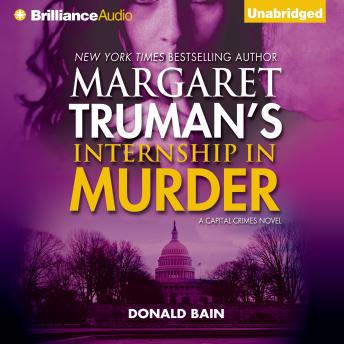 Duration:
11 hours 40 minutes
Summary:
Margaret Truman's beloved Capital Crimes series continues with Donald Bain's Internship in Murder.

Twenty-two-year-old Laura Bennett has led a privileged life. When her father's connections land her an internship in a congressional office in Washington, D.C., she takes the position without question, eager to get a feel for life in the nation's capital.

Her boss, Congressman Hal Gannon, is serving his fourth term in the U.S. House of Representatives. According to his political position, the congressman with movie-star good looks is a staunchly moral "family advocate." According to city gossip, he is a womanizer. Laura quickly falls for the charming-and married-Gannon, but when she catches a stewardess at Gannon's apartment, she vows to destroy him.

Before she has a chance to carry out her threat, Laura goes missing. Searching for clues the police might have missed, her family hires private investigator Robert Brixton, a former cop who has also worked for the FBI. Brixton tracks down rumors about Gannon, but the congressman vehemently denies having anything untoward to do with Laura. Then Laura is found dead in the congressional cemetery, and many more questions are raised.
Genres: