Irish Thunder: The Hard Life & Times of Micky Ward
Unabridged Audiobook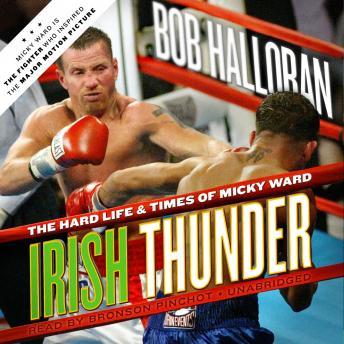 Duration:
10 hours 47 minutes
Summary:
"Irish" Micky Ward grew up in the 1970s and '80s as atough kid from Lowell, Massachusetts-a town where young men became boxers as ameans of survival. Ward participated in street fights from an early age and wasforever known by his opponents and spectators as the underdog. But with hisincredible ability to suddenly drop an opponent late in a fight with histrademark left hook, he kept proving everyone wrong. A hard worker who overcamebad luck, bad management, and chronic pain in his hands, he avoided the pitfallof poverty and dead-end work that plagued Lowell to become a Golden Glovesjunior welterweight.
After fifteen years of boxing, a string of defeats, andthree years of retirement, Micky battled Arturo Gatti in 2002 in the battlethat was later named "Fight of the Year" by Ring magazine anddubbed "Fight of the Century" by boxing writers and fans across the country.Ten rounds of brutal action ended with Micky winning by decision, and revivingenthusiasm for a sport that had been weighted down by years of showboating andcorruption.
In IrishThunder, ESPN columnist and Boston television reporter Bob Halloran recountsWard's rise to hero status, his rivalry with his imprisoned brother, and thenegotiations, betrayals, and drugs that shaped a wild youth who ultimatelybecame a nationally respected boxer. A wrenching account of life in blue-collarAmerica, this is a story about a boxer from a boxing family and a boxing town-Ward'sdramatic victories inside the ring are recounted in gripping detail, but it ishis victory outside the ring that inspires.
Genres: