Is Paris Burning?
Unabridged Audiobook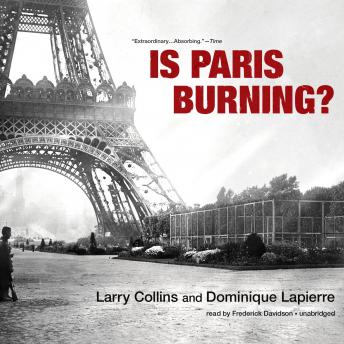 Duration:
15 hours 12 minutes
Summary:
"Is Paris burning?" is the question Hitler asked over and over as the French Second and American Fourth Divisions battered their way into the city.

Few moments in history are as stirring as the Allied liberation of Paris, yet few people are aware of how narrowly—and how miraculously—the city escaped Hitler's secret plan to reduce it to ashes. Is Paris Burning? reconstructs, in meticulous and riveting detail, the network of fateful events—day by day, moment by moment—that saved the City of Light.

Bestselling authors and renowned journalists Larry Collins and Dominique Lapierre spent three years researching this book, drawing on French Resistance radio messages, German military records, countless interviews, and secret correspondence between de Gaulle, Churchill, Roosevelt, and Eisenhower. Here they re-create the drama, the fervor, and the triumph that heralded one of the most dramatic events of our time.
Genres: