The Islands of the Blessed
Unabridged Audiobook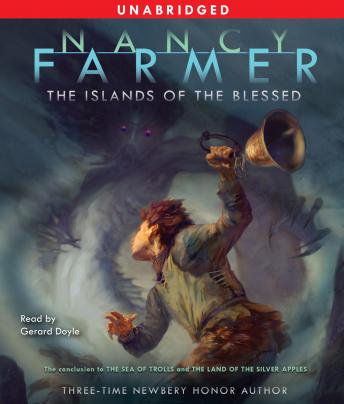 Duration:
13 hours 32 minutes
Summary:
"Jack, Thorgil, and the Bard are off on a new quest in this immensely satisfying conclusion of the trilogy that began with The Sea of Trolls and continued in The Land of the Silver Apples" in this "beautifully written tale" (Kirkus Reviews).

It begins with a vicious tornado. (Odin on a Wild Hunt, as the young berserker Thorgil sees it.) The fields of Jack's home village are devastated, the winter ahead looks bleak, and a monster—a draugr—has invaded the forest outside of town.

Soon, Jack, Thorgil, and the Bard are off to right the wrong of a death caused by Father Severus. Their destination is Notland, realm of the fin folk, though they will face plenty of challenges and enemies before get they get there. Impeccably researched and blending the lore of Christian, Pagan, and Norse traditions, this expertly woven tale is beguilingly suspenseful and, ultimately, a testament to love.

The concluding volume of the heroic Sea of Trolls trilogy from National Book Award winner Nancy Farmer finds Jack and his companions on a journey that may end up righting old wrongs—if they survive.
Genres: